Why have different laws for new drivers?
Young drivers are over-represented in road crashes in Australia, as commonly found in high income countries.  In 2004-2005, Australians aged 15-34 were injured in road crashes at approximately twice the rate of the rest of the population. Compared to older or more experienced drivers, young and inexperienced drivers are more likely to have road crashes, injuries and fatalities. For example, more than a quarter of all fatal road injuries (26%) and hospitalisations (27%) occur in drivers aged 17-25 years or 15-24, respectively.  However, this age group accounts for only 15% of licensed drivers.
As seen in Figure 1, the lowest risk of crashing occurs during the supervised Learner period (yellow section).  The greatest risk of crash occurs during the first year of P-plate (Provisional) driving (red section).  Therefore, having a relatively low risk experience as a Learner and passing the Provisional driving tests can create a false sense of security that the novice is a "good driver" and ready to drive unassisted.  However, in reality, the early Provisional period is when the real test of safe driving begins.  Therefore, while it is important that as much experience in as wide range of driving situations as possible is gained during the Learner period, it is also important to take a graduated approach to driving independently in the early Provisional period.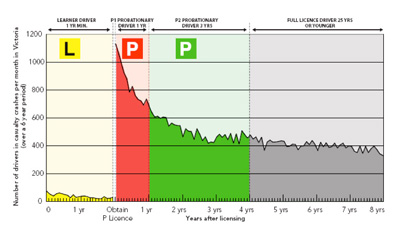 Figure 1  Casualty crashes in Victoria by years licensed 2000-2006 (VicRoads, 2008)
The graduated licensing system stages driving to begin with situations that involve relatively low risk and then gradually introduce novice drivers to more complex (riskier) situations as they gain more driving experience and as maturity increases.  These graduated systems include features such as a minimum number of supervised driving hours on the Learner licence and a minimum period of Provisional driving before allow unsupervised driving at night or with multiple young passengers.  However, while there is good evidence across a number of jurisdictions internationally that graduated licensing systems are effective in reducing the crash rate in novice drivers, which features of these systems are essential or the most effective continue to be reviewed.  As the term suggests, these are systems where several features are often introduced simultaneously and therefore the research literature is not yet conclusive on the effectiveness of all features.
Several features have been introduced in different states of Australia.  These include:
Minimum licence holding periods.
Mandatory minimum supervised driving hours on Learner licence.
Maximum speed restrictions.
Blood alcohol limits.
Hazard perception testing.
High-powered vehicle restrictions on the Provisional licence.
Towing restrictions.
Night time or passenger restrictions on the Provisional licence.
Mobile phone restrictions.
Factbase recommendations
Inexperience leads to excessive crash risk by young drivers.  Graduated licensing laws by age are highly effective and strongly recommended.  This website discusses the rationale for introducing these licensing features and rates the current strength of the evidence for each feature.
References
Baker SP, Chen LH, Li G. National evaluation of graduated driver licensing programs. DOT HS 810 614. Washington, DC: National Highway Transportation Safety Administration; 2006.
Hartling L, Wiebe N, Russell K, Petruk J, Spinola C, Klassen TP. Graduated driver licensing for reducing motor vehicle crashes among young drivers. Cochrane Database of Systematic Reviews. 2004(2):CD003300.
Pink B. 2008 Year Book Australia (1301.0). In: Australian Bureau of Statistics, ed. Vol 90. Canberra: Commonwealth of Australia; 2008.
Road deaths Australia: 2007 statistical summary. http://www.infrastructure.gov.au/roads/safety/publications/2008/pdf/Ann_Stats_2007.pdf. Accessed 26 Jan 2009. Commonwealth of Australia; 2008. Updated Last Updated Date. Accessed 26 Jan 2009.
Senserrick TM. Recent developments in young driver education, training and licensing in Australia. Journal of Safety Research. 2007;38(2):237-244.
Serious injury due to land transport accidents, Australia, 2005–06. http://www.nisu.flinders.edu.au/pubs/reports/2008/injcat113.pdf accessed 26 Jan 2009. Australian Institute for Health and Welfare & Department of Infrastructure Transport and Regional Development and Local Government, Commonwealth of Australia; 2008.
Stevenson MR. Steering in the right direction? Young drivers and road trauma. Med J Aust. Feb 7 2005;182(3):102-103.
Twisk DA, Stacey C, Twisk DAM, Stacey C. Trends in young driver risk and countermeasures in European countries. Journal of Safety Research. 2007;38(2):245-257.
Vic Roads. A parent's guide to P plater driving. http://www.arrivealive.vic.gov.au/files/pdf/gls/parents_guide.pdf accessed 26 Jan 2009. 2008.
Williams AF. Contribution of the components of graduated licensing to crash reductions. Journal of Safety Research. 2007;38(2):177-184.
Different laws for new drivers